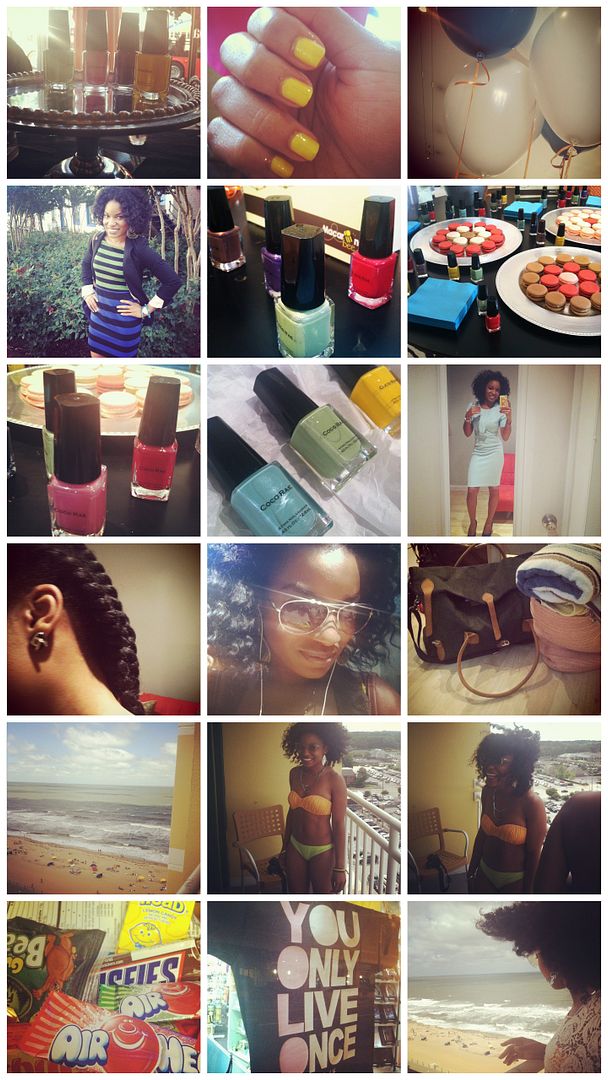 Last week I attended the launch of Coco Rae Nail Lacquers at Urban Chic in Georgetown. Courtney Vines, Founder and CEO of Coco Rae Cosmetics, manufacturers "4 free" nail lacquers (meaning they are free of the toxic chemicals Toluene, Formaldehyde, Dibutyl Phthalate (DBP), and camphor).
There were free nail polish changes at the event! I decided on 'Lemon Meringue.'
Balloons tied to a bucket of champagne at the Coco Rae launch.
What I wore to the Coco Rae launch. I came straight from work! You can also see another photo of me at the launch on The Seventh District.
Nail polish was everywhere!!! I was definitely in heaven.
Macaroons??? Say no more.
Another shot of the Coco Rae Nail Lacquers.
I took these three (yes, three) colors home with me: 'Sea Grass,' 'Vonnie' and 'Lemon Meringue.' You can scope out the colors here.
Headed to church in the same H&M dress from this post.
5 flat twists.
Next morning's twistout.
Packed for Virginia Beach!!!
The hotel view. I stayed at the Sheraton Oceanfront Hotel.
H&M bikini separates.
It was so cold and windy!!!
Candy binge for hotel room girl talk.
Great shirt at one of the beachside stores.
Taking it all in.